HIPAA IT Compliance – HIPAA Data Security – Tucson AZ
Everyone in the healthcare business knows HIPAA, the federal healthcare privacy regulations that include HIPAA IT compliance and HIPAA data security — is setting new standards for how physicians, clinics, hospitals, and other institutions manage patient data.
Silverado can help your organization or institution meet HIPAA IT compliance and HIPAA data security requirements. With a focus on reliability and accuracy, Silverado offers proven processes and procedures to solve your real world problems.
Silverado has a longstanding history with the Health Care industry in Southern Arizona.  Our experience supporting Health Care Providers and others in the Health Care industry has afforded us the unique opportunity to become the premier partner for our clients in the Health Care field.   Over the last several years, Silverado has completed numerous Risk Assessments for organizations throughout the Health Care industry, ensuring data and network security for those clients.
All Silverado technicians are required to complete a HIPAA Business Associate course and a HIPAA HITECH Security course. The owner has also completed a HIPAA Privacy and Security course.
HIPAA Risk Assessments
Silverado has been helping practices throughout Southern Arizona meet their requirement for a HIPAA Risk Assessment. For clients that need to meet Meaningful Use standards, we can meet those IT requirements as well.
We continuously refine our practices, processes, and tools so that we can be efficient, as well as thorough, in our service delivery. We now utilize a software scanning tool that identifies the rules and standards for HIPAA data and network security compliance. This allows us to quickly and accurately assess the current installation.
This scan is supplemented with an on-site inspection, customer interviews, and then an analysis of the scan results. This assessment service produces a dozen reports to document our analysis and provide guidance for any corrective actions that are needed.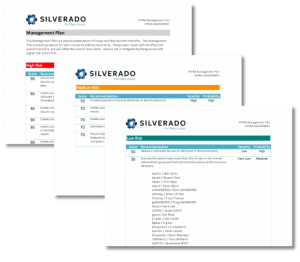 Contact us today to discuss how a HIPAA Risk Assessment can help your practice.