Where does a small business get big company IT resources at affordable costs?
"Silverado helped us articulate where we needed to go and how we ought to get there. They took the time to understand our business, and they delivered a solution that met our needs and allowed us to grow as we needed to with an incremental investment."
– Dan Miller, President, Advantiv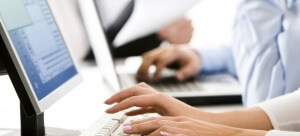 Don't wait until your business grows to receive the IT services you deserve. Silverado specializes in providing solutions and service expertise to organizations of all sizes. If you have your own in-house IT team, we can provide the extra skills and support that everyone needs from time to time, but few companies can afford to keep on staff.
Silverado understands that the ability to grow your business often depends on your ability to grow and manage your computer systems – and that's what makes us different. Whether your company is grown or growing, Silverado provides the support your business needs. And if you don't have an IT staff yet, Silverado can provide the end-to-end support you need, so you can focus on growing your business instead of maintaining your computers. Silverado services for growing businesses include:
Business continuity, risk mitigation and disaster recovery solutions
Maintenance service agreements, including proactive monitoring and trouble avoidance, 7-day-a-week help desk support, and spam and malware protection
Server and desktop virtualization, enabling businesses to run more tasks on fewer computers
Professional services such as network assessment and management, infrastructure design and installation, VMware server virtualization, and cloud computing solutions
Please contact us for more information.